MylowesLife.
My Lowes Life (MyLowesLife) is an online staff portal for employees of Lowe's Companies, Inc. The service, which was created in 2009, is accessible to current and former employees via internet-enabled devices with a compatible web browser. It provides company information and a variety of additional staff resources.
Visit it the Myloweslife Employee Login page, to sign in, or to get help with login problems.
About Lowe's Companies, Inc.
Lowe's Companies, Inc., commonly known as Lowe's or Lowes, is a hardware and home improvement company, based in Mooresville, North Carolina. It is recognised as the second-largest hardware chain in both the United States and the world, trailing only The Home Depot, with more than 2,000 stores spread across the US, Mexico and Canada.
What is the LowesNet Service?
LowesNet is the internal Lowes employee portal or network, functioning on an intra-store basis. This means it can only be accessed by staff members while they are in the workplace. However, it offers many of the same features and, essentially, My Lowes Life can be considered a web-based version of LowesNet, which is accessible away from stores.
What Can MyLowesLife Be Used For?
The MyLowesLife service operates in a similar way to many other employee portals, providing access to key resources, even when staff are away from the workplace. For example, current and former Lowe's employees can utilise the platform to view important news about the business itself, and to access information about their benefits.
It is primarily useful for current team members, who can also use the service to check their work schedule, swap shifts, access pay or tax records, keep their personal information up-to-date and make requests for time off. The service is available 24/7 and can be accessed via a range of different internet-enabled devices.
How Do I Create a MyLowesLife Account?
The platform is exclusively available to current or former employees of Lowe's, meaning there is no accessible registration process on the website itself. When you start work with the company, you should be issued with a password by your human resources department, while your username will be the Sales Number you use daily at work.
In the event that you have not been registered for the service, your login credentials do not work, or you are unsure about how to access the service, you should contact either your HR department or your manager.
Myloweslife Login.
How do I log in to the Myloweslife employee portal?
If you are an active employee and your manager or HR department have registered you to use the service, you can sign in to your account by visiting the main Lowes employee login page at: https://www.myloweslife.com.
Once the page has loaded, you should see a form where you can enter your login credentials on the left-hand side. In the top field, enter the Sales Number you usually use for work and in the bottom field, enter your password for the service itself. Then either press 'Enter' or click on the 'Login' button underneath the login form.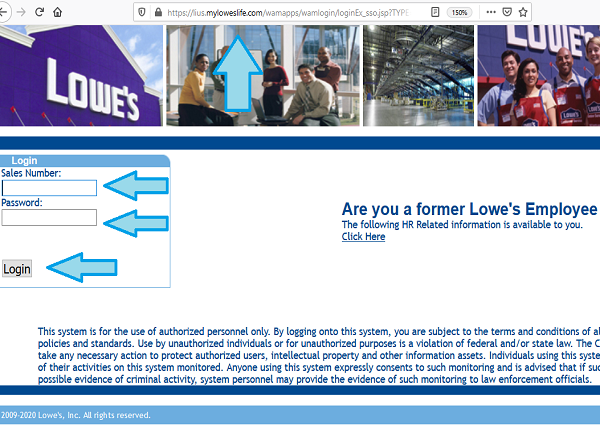 Myloweslife Employee Login for Former Employees.
The process for former employees is slightly different, but can still be carried out from the same Lowes employee login page. However, rather than using the form on the left-hand side of the page, look for the section labelled 'Are you a former Lowe's Employee?' and click on the link underneath. From there, follow the on-screen instructions.
Former employees have a separate login process, because the information they have access to is different.
To go directly to the Lowes employee login page for Former Employees, visit http://mylowesbenefits.com/full-time/former-employee.
Scroll down to "To access with your user ID and password, log in below", and enter your My Lowe's Life User Id and Password, then click on "Log On".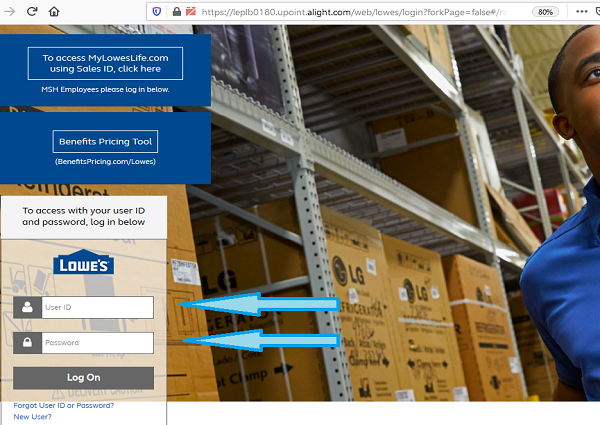 How Do I See My Schedule with Lowes Kronos?
Kronos is a popular staff management solution, which is widely used in the business world for keeping track of employee schedules and attendance. To view your schedule using this system, sign in to your account in the way outlined above and then click on the 'Kronos' link, which you should find in the top right of the screen.
You will need to acknowledge the message that appears. Once you have access to the Kronos system, you can use the menu to go to 'Stores' and then 'Calendars'. If you want to see your schedule for the next week, click on the option labelled 'Staffing'. If you need to see further ahead, choose the 'My Work and Absence Summary' option.
Lowes KRONOS Login.
How to Log In to Kronos From the Kronos App?
If you would prefer to access Kronos from the Kronos app, you can do so by downloading it from the Google Play Store or the Apple App Store. Once you have downloaded and installed it on your device, open the app and sign in using your login credentials. You should then be able to view your work schedule in the app.
What is the Lowes Kronos Server Name?
When you connect to the Kronos system through the app, it will ask you for the Lowe's server name. This should have been sent to you via email by either your manager or your HR department. Regardless, the Lowe's server name for the Kronos system is: https://ltsrvext.lowes.com/lowesmobile.
Myloweslife Login Problems.
I can't log in to my Myloweslife employee account. What is the problem?
It is possible that employees may occasionally run into difficulties when attempting to log in to the Lowes employee portal. The good news is, these difficulties can usually be explained by the most common problems and solutions. As a result, most people experiencing issues will be able to solve them by working through these steps.
First, you need to make sure you are definitely on the right login page. As described earlier, the login process is different depending on whether you are a current employee or a former employee. A former employee will not be able to use the current employee login process, so check that you are on the right section of the website.
Next, you need to make sure you actually entered your login credentials properly. Typing errors are easy to make and some can be difficult to spot, so it may be best to delete what you have entered and re-type it. You should also keep in mind that your password is case sensitive. For this reason, you should also check that CAPS LOCK is turned off.
If you usually copy and paste your username and password from a saved document or an email, you will need to double check that you have not accidentally copied any spaces, because a space will count as a character for the purposes of the login process. This is most likely to occur at either the beginning or the end of your username or password.
Should you continue to experience difficulties, it could be that there is a problem with your web browser, such as a compatibility issue, or your browser being out of date. Make sure you are running the latest version and you have JavaScript enabled. If that does not solve the problem, try using a different web browser. Some of the popular web browsers which should work with the service include Google Chrome, Internet Explore, Mozilla Firefox and Apple Safari.
You might also want to try clearing your browser's cookies, cache and other browsing data, before trying again, or you could achieve the same thing by logging in using the 'Incognito' mode. Failing that, try disabling any ad-blocking software, or try using a different device entirely, such as a phone, laptop, tablet or desktop.
If you are sure you are using the right login credentials, but the service is telling you the credentials you have entered are incorrect, it could be that an unauthorised person has gained access to your account and changed the password. You can potentially solve this by resetting your password, as described in the next section.
After working through these steps, if the login problems persist, you may need to contact your HR department.
I Have Forgotten My MyLowesLife Password.
How can I reset my Myloweslife password?
Password issues are another problem that some users may run into and whether you have forgotten your password, are worried that someone has gained unauthorised access to your account, or would like to change your password as a precaution, the Lowes employee portal provides you with the option for a password reset.
To do this, go to the main homepage at https://www.myloweslife.com and click on the link labelled 'Forgot Password?', which you should see underneath the main login form on the left of the page. You will need to answer a security question, in order to authenticate that the account belongs to you.
Once you have done this, simply follow the instructions provided and your password should be reset, allowing you to regain access to your account and change your password to something more memorable or secure.
Should you encounter any difficulties with the password reset process described, or in the event that you are unable to answer your security question, you should get in touch with your HR department and they should be able to assist you. This also applies if you continue to experience problems after resetting your password.
How Can I Contact My Lowes Life HR?
From time to time, it may be necessary to contact the team behind the Lowes employee portal by telephone. If you have a general question, which is not specifically connected to your own employment, the easiest way to do this is to call the company's HR Shared Services team, and they can be reached on either 1-888-HRINFO5 or 1-336-658-3535.
On the other hand, if your question or need for communication is connected to your employment, the better option is likely to be to contact the HR department at your own workplace and discuss it with them.
You can also reach the HR Shared Services team by mail. The address to write to for that is:
Lowe's Group Benefits (NB2CB), 1000 Lowes Boulevard, Mooresville, NC 28117.
MyLowesBenefits.com.
How Do I View My Lowe's Benefit Plans?
To view information about your benefits plans, go to MyLowesBenefits.com and use the login form on the left-hand side of the page. The page will direct you to https://leplb0180.upoint.alight.com/web/lowes/login.
You can log in using your Sales Number if you are a current employee, or your User ID if you are a former employee. There should be an option above the login form to toggle which of these you want to use.
This website will allow you to actually sign up to specific benefit plans. A health plan identifier is also available at:
https://www.benefitspricing.com/lowes/2020/inputs.html
Using this website, current, former and prospective employees can gain an estimate of their benefit entitlement. All you need to do is select your employment status, select whether you are part-time or full-time, enter your ZIP code and input details about your annual contribution, then click on 'Explore Your Options' to receive your estimate.
How Do I Search For New Lowe's Job Opportunities?
If you do not currently work for the company, but are interested in a career with Lowe's, the best way to search for vacancies is to visit the Job Opportunities page at: https://jobs.lowes.com/search-jobs
Using that page, you can search for vacancies by location, job category or keyword. Once you find a role you would like to apply for, click on the link, read through the job description and then click 'Apply Now'.
How Do I Apply For Jobs Internally on MyLowesLife?
If you already work for the company, you can apply for jobs internally by signing in to either of the MyLowesLife or LowesNet services. From there, go to 'Home' and click on the link labelled 'Career Opportunities'. You should be able to find this within the link area on the left-hand side of the page.
You can also set up a search agent, which will send you an email notification when a vacancy comes up at your store.
How Do I Get My Lowe's Paystubs As An Ex-Employee?
While current employees can view pay stubs through My Lowes Life, this option is not available to former employees. Instead, if you are in this situation, you will need to call the Lowe's benefits number and then speak to the human resources team. They should then be able to email the requested pay stubs to you, or send them in some other way.
The number to call for this is: 1-844-HRLOWES. It is worth noting that you can also access your pay stubs from your time working for the company by installing the Workday App on your phone and then launching it.
The official Myloweslife website can be found here.
Other Related Helpful Sites.
New Portals.
UK Login: